Melvin the Moose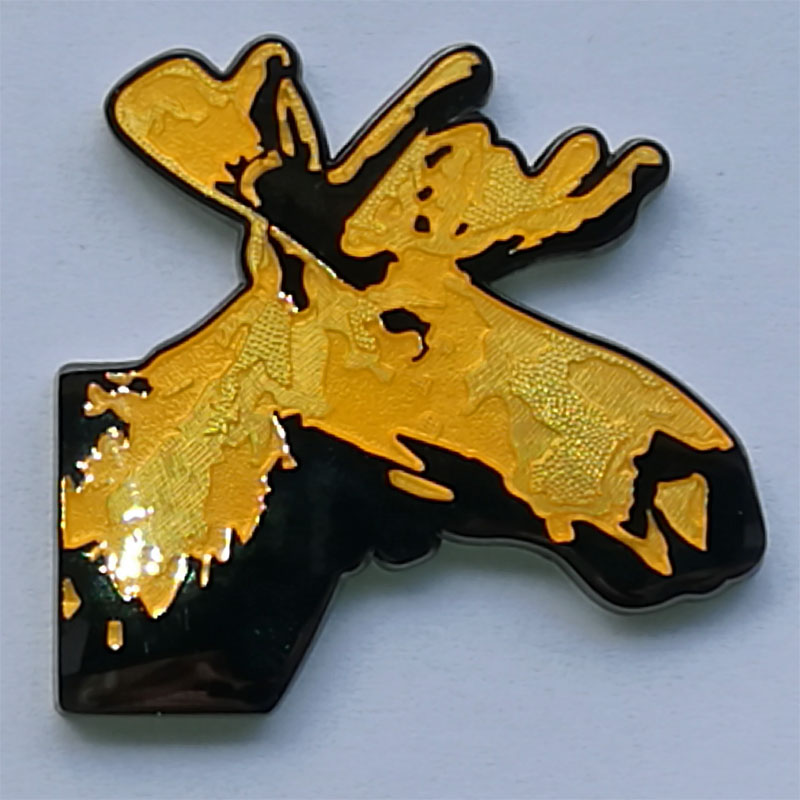 Beschreibung
Das ist ein "Close Encounters of the Moose Kind Geocoin".
Ausführung: Black Nickel, gelb translucent
Er ist Bestandteil unserer Sammlung.
Der Elch ist die größte, heute vorkommende Art der Hirsche. Sein Lebensraum erstreckt sich über Nordeuropa, Nordasien und Nordamerika und manchmal steckt er als Geocoin auch in einem Geocache Behälter oder ist in einem Coin Album zu bewundern...
Größe: 50 mm x 53 mm
Dicke: 3 mm
Gewicht: 40 g
Form: 2D, die Geocoin ist der Form eines Elchkopfes nachempfunden
Vorderseite: 3D Bild vom Kopf eines Elches
Rückseite: Elch, der über die Straße läuft mit der Aufschrift "Close Encounters of the Moose Kind"
"Der Close Encounters of the Moose Kind Geocoin wurde von Geocacher Dofferson gestaltet. Die Idee zur dieser Geocoin entstand während eines Urlaubes in Schweden. Während er in seinen ersten drei Schweden Urlauben keinen Elch zur Gesicht bekommen hatte, kam es beim seinem vierten Urlaub zu eher unerwarteten Begegnung "der dritten Art". Aus dem nichts rannte plötzlich ein Elch über der Straße und nur durch viel Glück, konnte Dofferson einen Unfall mit dem Elch verhindern. Seine Frau, Dofferson wie auch der Elch waren über diese unerwartete Begegnung so überrascht, dass dieses Erlebnis sich nachhaltig in ihren Erinnerungen eingebrannt hat. Als ein echter Geocoin Liebhaber hielt er diese speziellen Moment in einer Geocoin fest."
Quelle: http://wiki.ssoca.eu/Close_Encounters_of_the_Moose_Kind_Geocoin
Die wichtigsten Stationen meiner Reise:
29.01.2015 - aktiviert
...
Details auf geocaching.com
letzte Aktualisierung dieser Seite: